Dirt
Game Modes
Survival and Creative
Type of Block
Natural Block
Tool Used
Luminosity
No
Transparency
No
Renewable
No
Stackable
Yes
Flammable
No
Drops
Itself
Description
Dirt is a common block covering most of the surface. It can be covered in Snow and Grass .
Obtaining
Dirt can be obtained by digging it with bare hands or any tool.
Using a shovel will speed up the process.
Usage
Dirt is the cheapest building material for the First Night house. Dirt can be tilled by Hoe to create a Farmland.
As a Crafting Ingredient
2 Dirt + 2 Gravel → 4 Coarse Dirt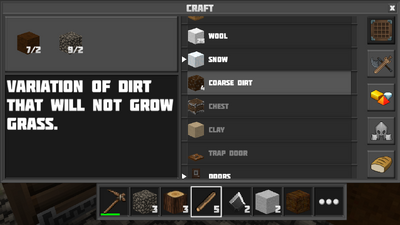 Updates History
Version
Updates History
v3.1

- Now you can till dirt using hoe to make a Farmland.

- Added crafting recipe to obtaine Coarse Dirt.

v3.0
- Added Dirt to Survival Mode