Golden Carrot
Game Modes
Only Survival Mode
Type of Items
Food
Restores
Cookable
No
Renewable
Yes
Stackable
Yes
Description
Golden Carrot is a type of food and brewing item. Golden Carrot restores 6 Hunger Point of Hunger Bar. 
Usage
Golden Carrot can be eaten, but can't be cooked.
You can use it to feed and breed rabbits . 
Also use Golden Carrot in brewing to brew Potion of Night Vision. 
Obtaining
Golden Carrot can be obtained by crafting only in the Workbench from Carrot and Golden Nuggets.
As a Crafting Recipe
1 Carrot + 9 Golden Nuggets → Golden Carrot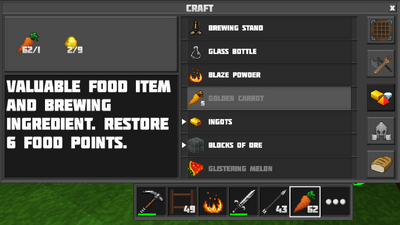 Brewing
Breeding
Rabbits will follow you when you hold golden carrot in hands. Rabbits can be fed and bred with golden carrot, when you click on them with carrot.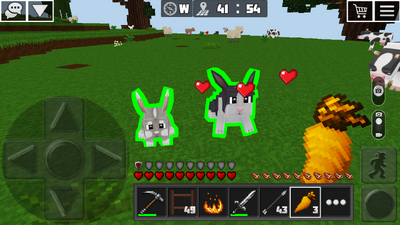 Updates History
Version
Updates History
v3.2

- Added crafting recipe to craft Golden Carrot

- Now you can use Golden Carrot in brewing

- Now you can feed and breed rabbits with Golden Carrot