Jurassic World: Dominion Dominates Fandom Wikis - The Loop
Play Sound
Pickaxe
Game Modes
Only Survival Mode
Type of Items
Tools
Durability

Wood: 60 uses

Stone: 132 uses

Iron: 251 uses

Golden: 33 uses

Diamond: 1562 uses

Luminosity
No
Transparency
No
Renewable
Yes
Stackable
No
Description
Pickaxes are type of tools used to mining ores and rock types of blocks.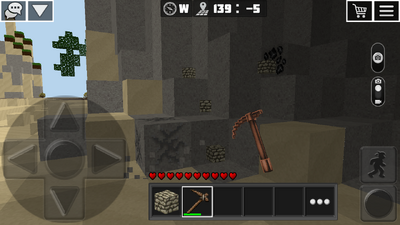 Obtaining
Pickaxe can be obtained by crafting it on a Workbench.
Usage
Pickaxe speeds up the mining process.
It can be used to get ores and some materials such as Stone or destroy buildings made of them.
Pickaxes can be used to destroy any object in game but only specified blocks will drop loot.
Axes chopping speed in seconds
Red background indicates that the block cannot be harvested with that tool.
Block
Breaking Time
Hand
Wooden
Stone
Iron
Diamond
Golden
Block of Diamond
25
12.5
6.25
1.25
0.95
2.1
Block of Iron
25
12.5
1.9
1.25
0.95
2.1
 Iron Bars
25
3.75
1.9
1.25
0.95
0.65
Iron Door
25
3.75
1.9
1.25
0.95
0.65
Furnace
17.5
2.65
1.35
0.9
0.7
0.45
Block of Gold
15
7.5
3.75
0.75
0.6
1.25
Coal Ore
15
2.25
1.15
0.75
0.6
0.4
Diamond Ore
15
7.5
3.75
0.75
0.6
1.25
Gold Ore
15
7.5
3.75
0.75
0.6
1.25
Iron Ore
15
7.5
1.15
0.75
0.6
1.25
Lapis Block
15
7.5
1.15
0.75
0.6
1.25
Lapis Ore
15
7.5
1.15
0.75
0.6
1.25
 Bricks
10
1.5
0.75
0.5
0.4
0.25
Brick Stairs
10
1.5
0.75
0.5
0.4
0.25
Cauldron
10
1.5
0.75
0.5
0.4
0.25
Cobblestone
10
1.5
0.75
0.5
0.4
0.25
Cobblestone Stairs
10
1.5
0.75
0.5
0.4
0.25
 Nether Brick
10
1.5
0.75
0.5
0.4
0.25
Nether Brick Stairs
10
1.5
0.75
0.5
0.4
0.25
Stone Slab
10
1.5
0.75
0.5
0.4
0.25
Stone
7.5
1.15
0.6
0.4
0.3
0.2
 Stone Brick
7.5
1.15
0.6
0.4
0.3
0.2
Stone Brick Stairs
7.5
1.15
0.6
0.4
0.3
0.2
 Hardened Clay
6.25
0.95
0.5
0.35
0.25
0.2
 Stained Clay
6.25
0.95
0.5
0.35
0.25
0.2
 Sandstone
4
0.65
0.35
0.2
0.2
0.1
Sandstone Slabs
4
0.65
0.35
0.2
0.2
0.1
 Ice
0.75
0.4
0.2
0.15
0.1
0.1
As a Crafting Recipe
Ingredients
Result

3  Wooden Planks +

2 Sticks

1  Wooden Axe

3  Cobblestonetone + 

2  Sticks

1  Stone Axe

3  Iron Ingot +

2 Sticks

1  Iron Axe

3  Gold Ingot +

2 Sticks

1  Gold Axe

3  Diamond Ingot +

2  Sticks

1  Diamond Axe
Updates History
| Version | Updates History |
| --- | --- |
| v3.0 | - Added Crafting Recipe for 5 types of Pickaxes to Workbench. |