Description
Stairs is type of blocks that allows player and mobs to reach elevations inaccessible to jump.
Obtaining
Stairs can be obtained only by crafting it on a Workbench .
Stairs can be placed and mined or chopped again.
Stone-type Stairs can be destroyed with any Pickaxe and it drops itself. Destroyed with another tool, will drop nothing.
Wooden Stairs don't require specific tool but Axe will speeds up the process.
Usage
Stairs mostly used in building, wooden types of stairs can be used as Fuel.
Stairs can be placed on any side of solid block. It will be placed with half-block side facing the player. Stairs will change their shape after joining neighbour stairs with different orientation.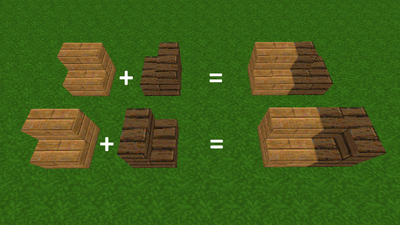 As a Crafting Recipe
Updates History
Version
Updates History
v3.2

- Changed the texture of cobblestone stairs in all block texture packs to more light and gray

v3.0

- Added 4 types of wooden stairs and 5 stone-type stairs. 

- Added crafting recipes to workbench to craft all types of stairs