Jurassic World: Dominion Dominates Fandom Wikis - The Loop
Play Sound
Zombie

Game Modes
Only Survival Mode
Health Points
20 ()
Attack Strength
2 - 7
Drops
Rotten Flesh (0-2)
Rare Drops
Description
Zombies are common hostile mobs that spawn in dark areas and at night. Zombies can enter the Spawn Zones.
Zombies attack the player by slowly moving toward them and inflicting damage by making contact.  Zombies catch fire in sunlight. But they can search for dark areas and hide there after the sunrise.
There are Zombies with a blue, lime and green skin, they wear similar clothing to humans. They can be heard making roaring, moaning and growling noises when near. Zombies have 20 Health Points, the player can kill them faster using Sword. Sometimes they will pick up tools and blocks during travel. (See picture below)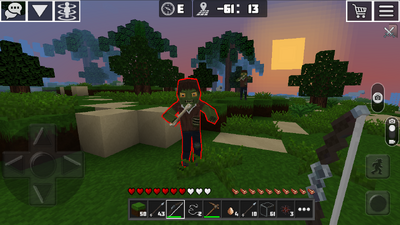 In desert biomes only Husk Zombies can spawn. They are gray-haired zombies in a red T-shirts.
Husk Zombies drops the same loot and have the same behavior as ordinary zombies except one difference - they do not burn in the sunlight.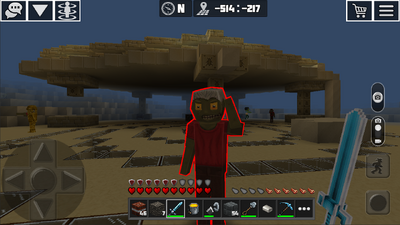 Baby Zombies
Baby zombies make up 5% of zombie spawns. They have similar behavior to adult zombies, but: they do not burn in sunlight and they are faster than adult zombies, that's why they are more dangerous!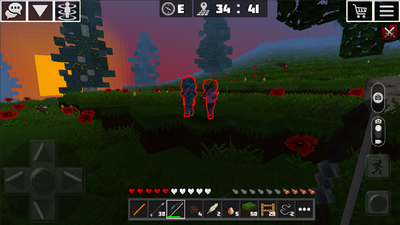 Drops
Zombies drop 0-2 pieces of Rotten Flesh, when killed.
With probability of 2,5% Zombies can drop Iron Ingots, Carrots, Potatoes.
With probability of <3% Zombies can drop Ghast Tear, Magma Cream, Pufferfish

With probability of 5% Zombies can drop Glow Stone Dust, Blaze Rod

With probability of 10% Zombies can drop Nether Wart
Zombies Behavior
Zombies spawn in groups of 1-6 at night.
Zombies will attempt to avoid obstacles, and will try to find the shortest path towards the player. They continue pursuing the player even when being attacked.
Zombies can hit the player through Doors. They can even break the Wooden Door .
At dawn most Zombies will catch fire and burn once exposed to direct sunlight. They may search for dark areas and hide there after the sunrise.
Zombies will exit protective areas to chase a close player, whereupon they will again be vulnerable to burning.
Video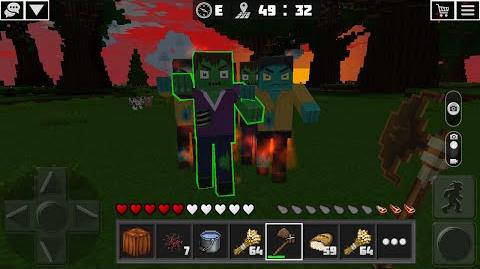 Updates History
Version
Updates History
v3.4.3
- Changed zombie models and added animations
v3.2
- Now Zombies will not drop Slimeball upon death
v3.1

- Added Zombies (3 texture models) and Baby Zombies (1 graphics model).

- Zombies can hit the player through Doors. They can even break the Wooden Door .

- At dawn most Zombies will catch fire and burn once exposed to direct sunlight. They may search for dark areas and hide there after the sunrise.

- Baby Zombies are faster and can't die on the sunlight

- Zombies will exit protective areas to chase a close player, whereupon they will again be vulnerable to burning.

- Zombies drop 0-2 pieces of Rotten Flesh, when killed. With probability of 2,5% Zombies can drop Iron Ingots, Carrots, Potatoes. With probability of <3% Zombies can drop Ghast Tear, Magma Cream, Pufferfish. With probability of 5% Zombies can drop Glow Stone Dust, Blaze Rod. With probability of 10% Zombies can drop Slimeball, Nether Wart